'Light the Forest' Display to Move Downtown
Tuesday, November 10, 2020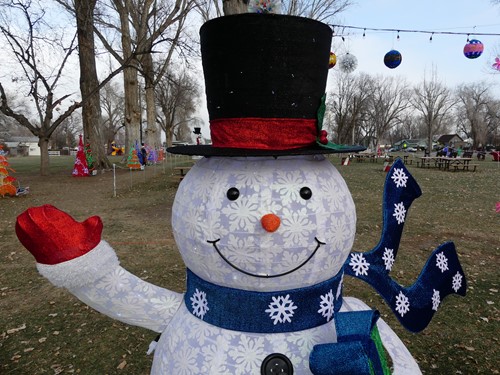 MOUNTAIN HOME, Idaho (Nov. 10, 2020) – The City of Mountain Home's "Light the Forest" Christmas display is moving to a more prominent location this year. The holiday display has been a long-time fixture at Carl Miller Park but will relocate to Railroad Park this year, giving Main Street drivers and shoppers an opportunity to catch the Christmas spirit.
"We want to celebrate our new downtown this year," said Paula Szafranski, City Treasurer and lead organizer of the display. "We'll have everything set up before Small Business Saturday."
Small Business Saturday is held the first Saturday following Thanksgiving and promotes the idea of a Christmas shopping day dedicated to supporting local businesses. Mayor Rich Sykes said the City wants to continue doing everything it can to support its downtown businesses and promote the area as a fun, family-friendly shopping and dining destination for residents and visitors alike.  
"Even though some businesses across the nation have suffered because of COVID-19, Idaho has been one of the states where the economy rebounded the fastest," said Sykes. "The timing of us finishing Phase II of our Downtown Revitalization just in time for the holiday season creates a great opportunity to help our locally-owned businesses continue to come back stronger than ever."
Mountain Home has seen several new business openings over the past two months, including two new businesses in the downtown core.
"The infrastructure repairs and aesthetic improvements we've made really change the look, feel and functionality of the area," said Sykes. "We're excited to give people as many reasons as we can to get downtown and spend as much time enjoying the area as we can."
This year's display will feature a new Santa Sleigh and reindeer where visitors can snap a great photo with family and friends.
"Our Christmas display is one of the best in Idaho," said Sykes. "I want to show that off to more people and invite everyone down to create their own 'Hallmark moments.'"
###