NEW POLICE CHIEF SWORN IN
Wednesday, November 16, 2022

CITY OF MOUNTAIN HOME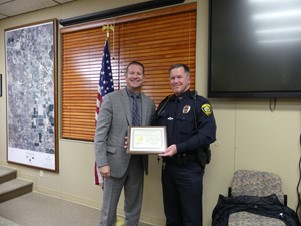 MEDIA RELEASE: November 16, 2022
CONTACT: Betsy Hiddleston, Communications Specialist, bhiddleston@mountain-home.us 
NEW POLICE CHIEF IS SWORN IN
Mountain Home— At the regularly scheduled City Council meeting on November 14th, Jon Thompson was sworn in as the City of Mountain Home Police Chief.
This decision was made with unanimous support from the City Council.
Thompson has over 30 years of law enforcement experience and has trained at various levels of leadership. He has served as a patrol officer, field training officer, detective and commanding officer of a multi-agency SWAT team.
"I want to involve every member of the department in decisions. I've found that someone who makes a decision, or least has input to that decision, has a vested interest in the outcome. I think the department's future looks bright overall.  We have a young and eager to learn agency that truly understands their role as public servants.  I want to continue to foster that and develop officers thru their career goals" said Thompson.
Thompson has served in several agencies throughout the northwest, including Kent (WA), Vancouver (WA), and King County, also located in Washington. He joined the Mountain Home Police Department in August of 2021. In the same year, Thompson graduated from the National Tactical Officers Associations' Command College and is currently the only graduate of that program in the Pacific Northwest.
The City of Mountain Home is excited for the new leadership and what future holds for the police department.
###