URA announces winner among Hub Building proposals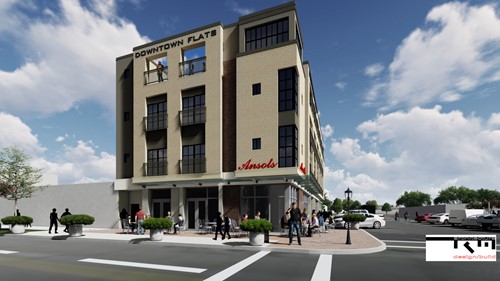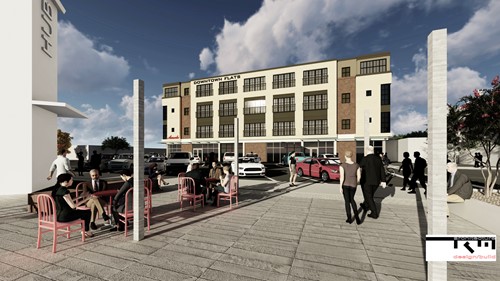 MOUNTAIN HOME, Idaho (June 11, 2021) – The Elmore County Urban Renewal Agency announced today that the board has voted to accept a proposal from Weitz and Company for future use of the Hub Building site located on the corner of N 2nd E Street and E 2nd N Street in historic downtown Mountain Home. The building occupies a prominent corner of the City's central business district.
Despite its strategic location, the building has been intermittently vacant for more than a decade, including a recent long stint. The building's condition was analyzed for possible repurposing and rehabilitation to maximize the utility of the basement, main floor, and mezzanine. It was during this analysis that community stakeholders became aware that the building suffers from a number of deficiencies. The single stair access to the basement and mezzanine levels is no longer compliant with current building codes and poses dangers to building occupants in the case of an emergency or natural disaster. The mechanical and electrical systems no longer provide the requisite load capacities or energy efficiencies, and the bathrooms are too small and lack the required number of fixtures for a building of its size.
The proposal from Weitz and Company will provide 24,000 sq. ft. of new mixed-use space. The design entails the removal and remediation of hazardous materials from the site and demolition of the majority of the building's components. The general contractor for the Weitz Group will save many of the noteworthy building components for reuse in the new design. A new three- or four-story energy efficient building will be constructed to compliment the historic Mellen Hotel and the new Hub Plaza by providing new commercial restaurant and retail space on the main floor, flexible office spaces with shared resources on the second, and residential flats on the third and proposed fourth. The mixed-use brick and composite building will provide a destination draw for the area and embraces the newly completed Hub Plaza while providing a subtle nod to the history of the original Hub Building and Mountain Home. We are excited for the future of downtown and the economic boost it will provide the local economy.
###