Mountain Home Announces Downtown Development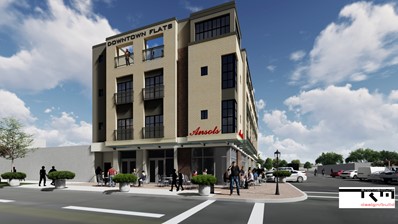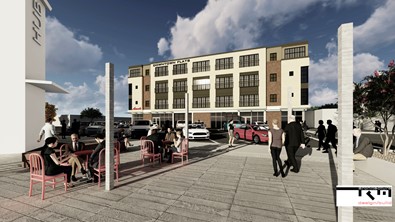 Editors Note: The following was written by Catie Clark for Idaho Business Review and was published on the IBR website June 23, 2021. The City of Mountain Home takes no credit for this content, except where information and artist renderings were supplied  to the reporter via press release.
The Mountain Home Urban Renewal Agency (MHURA) accepted a proposal at its June meeting from Weitz and Company of Boise for the Hub Building in the city's historic downtown district.
What is the Hub Building?
The Hub Building is at the corner of corner of N. 2nd E. and E. 2nd N. Streets. Built in 1964, the 11,000-square-foot retail space, formerly occupied by the Hub of Mountain Home store, has been empty for most of the last decade. The building has a ceiling-to-floor wraparound glass store front on the two sides facing city streets. The interior has a basement, main floor and vintage mezzanine, a feature once popular in department store designs of the previous century. Multiple parts of the structure are now out of compliance with modern building codes, especially the safety hazard of the single stair access to the basement and mezzanine.
MHURA paid $275,000 for the Hub Building in August 2018. It issued an request for proposals to redevelop the property with a submission deadline of May 17, and a stated purpose for developers to propose "a viable use for the building."
The winning proposal